Herbal Tea
Not only is this a very tasty and invigorating drink. Drinking herbal teas offers a great opportunity to enhance your well-being and health. It is also very helpful for weight loss programs. You can find a most impressive array of herbs, fruits, and flowers without pesticides, and all dried naturally. You can buy loose leaf herbal tea to benefit you and your family.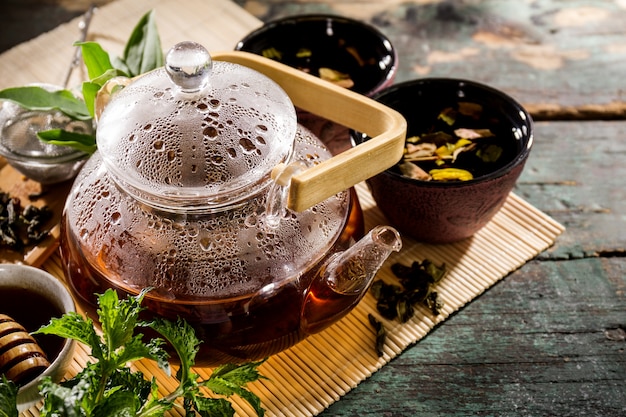 Having been selling premium products for many years, we continue to provide an impressive selection of the best organic herbal teas to purchase during your online shopping. Drink them in their pure form or add some flavor-enhancing elements, such as honey or sugar. Herbal tea by itself can also make a great, tasty additive to black or green tea in moderate amounts. However, herbal beverages are at their  best tasting when prepared with boiling-hot water. Become healthier and boost your immune system. Take a look at our herbal tea prices right now!
Natural Herbal Tea as a Decent Alternative to Bag Tea
If we compare the health benefits and taste features of premium herbal products and flavored bag teas, we find the latter can taste synthetic, at least to those without the most discerning palates. The former are always full-flavored and natural-tasting. We can also notice that it is the leafy types of teas (not those in bags sprayed with aromatizers) that can bring a real boost to your feeling of well-being. And last but not least, caffeine-free herbal drinks can be drunk in an almost unlimited amount even by pregnant women and children.
Nevertheless, there is also a special category of leafy teas - medical beverages - the dosage of which should be carefully regulated. Such varieties of tea are usually sold in pharmacies. In addition, revitalizing beverages rich in vitamins can be safely consumed day by day; hot brews will help reinforce your immune system during colder seasons, while cooler drinks quench your thirst in summer.
An Addition to Your SPA Ritual
You can buy loose leaf herbal tea and make it a new, essential part of your relaxing day in the SPA. In particular, you should take a look at the options containing the flowers of lavender, jasmine, bergamot, and the leaves of raspberry.
How Herbal Tea is Collected & Dried?
Flower-buds, flowers, and herbs for our different kinds of organic herbal tea we have for sale are gathered in sunny, dry weather. Only healthy flower-buds, without any black or yellow blemishes, will suffice for the end product. After the organic ingredients have been harvested, the future product is cleaned by removing all the garbage, branches, and leaves. Then the ingredients are air-dried, (or dry-cured) in the shade for 3-5 hours.
Storing Herbal Teas
An optimal way to store herbal tea is to use special glass jars with an airtight cover or in paper or linen bags, in a dry place. Make sure you do not store the tea close to other products that have a strong aroma.
Dried herbs and flowers are usually stored for 1-2 years. 
Purchase Organic Herbal Tea
Buy organic herbal tea online from our specialized online shop at a very reasonable price. We offer a wide range of Certified Organic & Natural products provided only by the best tea factories in Сanada. Rest assured that you get premium-taste exotic beverages when you order at our online "den of tea".