Customer Reviews
07/14/2020
Anonymous
Canada
Perfect gift
Item came beautifully packaged. The aroma of the tea was just as pleasing as the taste. I would recommend this as a gift. The items came in a well wrapped box, the tissue paper was a lovely touch.
07/04/2020
Fatema H.
Canada
GIVE ME MOOOORE!
I love everything about this Starter Kit so much I think I'm going to start giving them as presents to other tea lovers in my life. I picked Coconutty Creme and London Calling and I can't figure out which one is my favourite. I mix both of them with a chocolate/coconut MCT powder as a part of my keto diet and the tastes blend so beautifully together. I already know that I want to try their matcha powder next! Highly recommend :) :) :)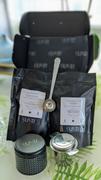 Great gift!
I purchased this set for a father's day gift during 2020's quarantine. The shipping speed was great and the package even arrived to Vancouver a few days early! I really liked the option to select which 2 teas I wanted to include in the set as it allowed me to personalize the gift to my dad's preferences! I would definitely recommend it if you are looking for a great gift.
Just my Cup of Té
As a lover of tea, I was very excited to try out Cup of Té for the first time with the Luxe starter kit. I was so pleasantly surprised to receive a personalized email from Taylor and at how quickly my tea arrived, not to mention the generous amount of tea you actually get. I've tried the Cream of Earl Grey so far and I'm hooked. If you love tea and supporting small business, you'll love Cup of Té!
Perfect set!
It has everything you could ask for in a kit for Cup of Te beginners. The opportunity to try 2 teas of your choice is the perfect decision maker for us indecisive people. Because I got that opportunity, I ended up repurchasing a bigger size of the Sencha! Love it!